, FrontierVille
Next up in the holiday 2011 lineup is Thanksgiving! Hot on Halloween's heels, this festive feast holiday brings on the brisk weather and kicks off that cozy winter feeling. But family bonding and delicious food aren't all Thanksgiving 2011 has to offer. As usual, Thanksgiving items are appearing in all your favorite Facebook games such as FarmVille, Pioneer Trail, The Sims Social, and more! So to see all the latest Thanksgiving updates, features, and goodies; check out our complete Thanksgiving Guide for FarmVille, Pioneer Trail, The Sims Social, and more below!
Jump to:
FarmVille Thanksgiving | Pioneer Trail Thanksgiving
FarmVille Thanksgiving
FarmVille: Purchase a Zynga Game Card from 7-Eleven, receive Cornucopia Home
FarmVille Harvest Hoedown Goals: Everything you need to know
FarmVille Harvest Hoedown: Everything you need to know
---
Seriously, that steed better be fitted for intergalactic travel at that price. The winner of the Design Your Horse Contest in Zynga's Pioneer Trail has been chosen: Murdocc85's Galactic Stallion. With that, the horse has
finally
been recreated in the game and is now available on the Market for 99 Horseshoes. Granted, the sparkly equine wonder is on sale for 80 Horseshoes right now, but only for another two hours as of this writing.
That price amounts to somewhere around $ 11, in case you were already reaching for your credit card. Now, that's the standard price–all Horseshoes are 50 percent off until 3 p.m. PST. Regardless, entire games are sold on the App Store for a tenth of that. The Galactic Stallion is one beautifully designed creature, with its body consisting of stars and surrounded in sparkles. (It's quite reminiscent of the Celestial Steed offered in World of Warcraft.) But it doesn't appear that the animal does anything special to warrant such a steep fee.
Not to mention that this impressive creature was designed by a Pioneer Trail community member. You would think that the winner would be interested in having his creation enjoyed by everyone–not only for those willing to pony up more than 10 bucks. Despite that, congratulations, Murdocc85. You've created one purrty in-game item.
Did you enter the Design Your Horse Contest? What do you think of the Galactic Stallion that won, and what of its price tag? Sound off in the comments. Add Comment.
---
If you're feeling bogged down in Halloween content in Pioneer Trail, rest assured that Zynga hasn't abandoned thoughts of other things, as it's clear new items are definitely in the works. How do we know? A new Crafting Workshop collection has shown up in the game's Collections menu, and we're told specifically that these collectible items come from a Crafting Workshop Building.
To be specific, the folks at CEGamers have found a picture of the Crafting Workshop in its final form. Whether or not the building has already started a slow rollout, or if this was just a preview of things to come, however, remains to be seen. For what it's worth, the game's official forums has made no official claim about the Crafting Workshop event existing, let alone anything about when the building will launch for all users.
Either way, we do know further details about this collection, which requires the following five items:
Saw Dust
Bent Nails
Framing Squares
Measuring Sticks
Bird Houses
---
Halloween's getting closer, time for us to craft some spooky items to display on our homesteads. Work hard enough and you can even get a broom for your avatar's to ride around on! The Spook Shack is where it all happens; let's get started!
Expires on November 18th
Must Be Level 16+
Whenever you receive the popup below, click "Place Spook Shack" to get started on building it (if you aren't quite ready, select "Maybe Later" and purchase it at another time from the market.)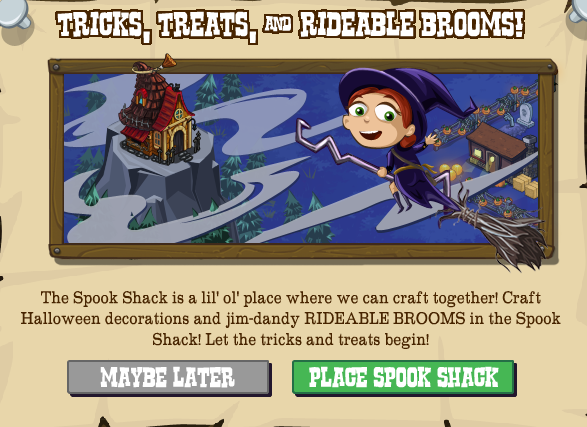 Place the Spook Shack. You will need the following items to finish it: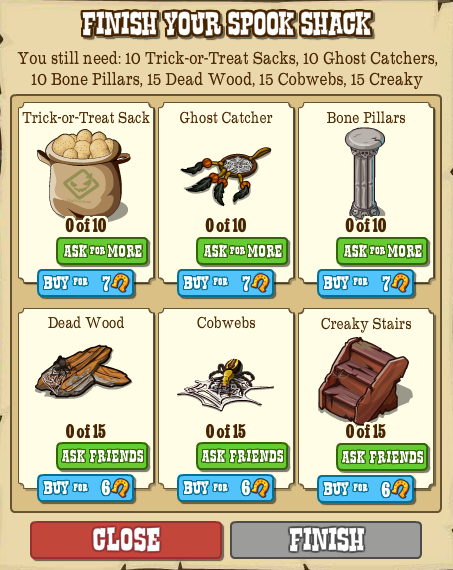 ---
Howdy Pardners!
Gh-gh-gh-ghost! Have appeared on your Homestead and they need your help with some unfinished business. Be sure to help all the ghosts and they'll be sure to reward you with tricks or treats for helping them move on in peace. Are you ready for a spook?
HELPFUL TIPS
Gated at Level 15
12 repeatable missions
3 cats that follow you
1 new rideable horse
__________________________
To start out, click OK when you receive the popup below.
---
After the honeymoon, Fanny decides its finally time to let Hank in on a secret of hers that's she kept from him. Help her get up the courage to fill him in!
HELPFUL TIPS
Must Be Level 18+
Potions will make you appear like a vampire or a werewolf or a hybrid of the two for 4 hours each!
Whenever you receive the popup below, click "I'll Help" to get started on building your Halloween Hutch (if you aren't quite ready, select "Later" and purchase it at another time from the market.)
---