[The Pioneer Trail] Hank & Fanny's Baby Naming Missions
Howdy Pardners!
Hank & Fanny's baby is on the way, and they want you to help them pick the perfect name! Complete the new repeatable missions to earn great rewards like the Rideable Bicycle!
You must be at least level 14
There are 2 New Crops
A new Crop on Free Gifts Page

We anticipate this is will be a long-term feature for most players and that the difficulty level is medium-to-high.
Place the Baby Wagon and you can access the menu here: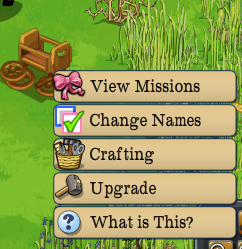 Completed Wagon:

About: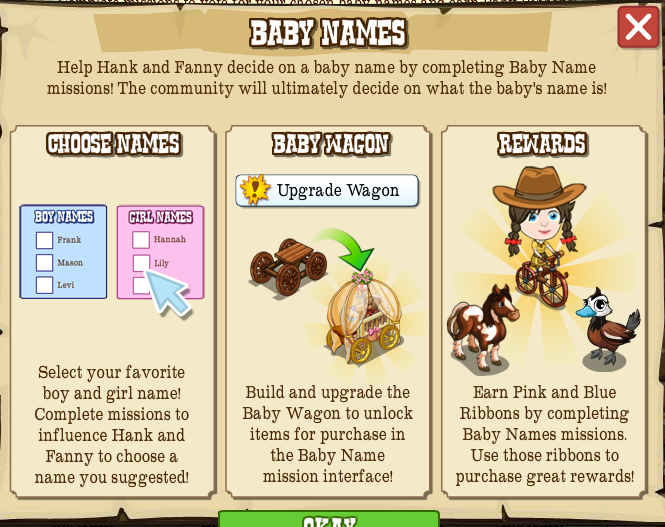 2 Wrapper Missions:
Mission I: The Baby Name Debate
– Place the Baby Wagon
– Collect 40 Ripe Oranges (harvest Orange Trees)
– Complete 2 Baby Name Missions
Reward: 1000XP, 3 Blue Ribbons, 3 Pink Ribbons
Mission II: The Baby Name Resolution
– Complete all upgrades of the Baby Wagon
– Craft 3 Trays of cupcakes
– Purchase the Rideable Bicycle from the Baby Names mission interface
Reward: 10,000XP, Mystery Animal Crate
The Repeatable Missions: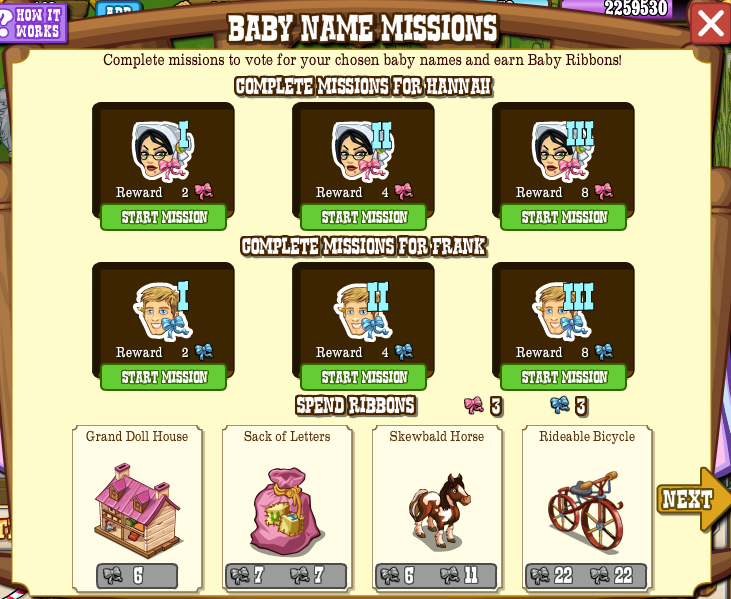 Fanny Missions:
Mission 1: How About Hannah?
– Tend 45 Adult Geese on your homestead
– Harvest 25 Baby Carrots on your homestead (they are on Free Gift Page)
– Craft 2 Heart Puzzles
Reward: 400 XP, 2 Pink Ribbons, 1 All You Can Eat Meal
Mission 2: Express Ideas of Beauty
– Harvest 50 Apricot Trees on your homestead
– Collect 35 Sunflower Barrettes (harvest sunflowers)
– Craft 4 Hand-Sewn Embroideries
Reward: Dinner, 4 Pink Ribbons, 1 Hummingbird
** Tend Adult Sheep to get Decorative Threads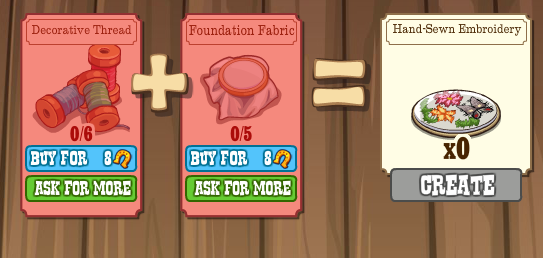 Mission 3: Education is a Foundation
– Harvest 125 Peas
– Sell 30 Adult Cows
– Craft 5 School Dresses
Reward: 7 Course Feast, 8 Pink Ribbons, 1 Stuffed Bear
Hank Missions:
Mission 4: How Does Frank Sound?
– Harvest 45 Cabbage
– Harvest 35 Green Apple Trees
– Collect 15 Baby Name Books
Reward: 400 XP, 2 Blue Ribbons, 1 All You Can Eat Meal
Mission 5: Courage Knows No Bounds
– Clobber 12 Snakes
– Collect 35 Speckled Eggs (tend Adult Sussex chickens from chicken mastery 2)
– Craft 3 Stuffed Lion Toys
Reward: Dinner, 4 Blue Ribbons, 2 Queasy Chickens
** Harvest Cotton to get cotton stuffing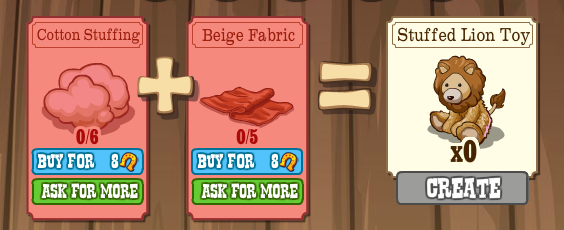 Mission 6: Superstitious Hank
– Harvest 95 Peanuts
– Sell 35 Adult Pigs
– Craft 6 Squash Soup
Reward: 7-Course Feast, 8 Blue Ribbons, 2 Quick Draw Quaffs
Harvest Squash to get squash wedges
New crop on Free Gift Page: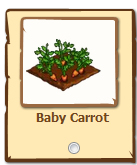 Items you can get with your ribbons:

**Inside the letter sacks are letters for your homestead**
Tags: Baby Carrot Crop, Baby Corn, Baby Naming, Baby Naming Missions, Baby Wagon, Courage Knows No Bounds Mission, Education is a Foundation Mission, Express Ideas of Beauty Mission, Grand Doll House, Horse on Wheels, How About Hannah Mission, How Does Frank Sound Mission, Mystery Animal Crate, Repeatable Missions, Rideable Bicycle, Sack of Letters, Sack of Vowels, Skewbald Horse, Stiff-Tailed Duck, Superstitious Hank Mission, The Baby Name Debate Mission, The Baby Name Resolution Mission, The Pioneer Trail, Wrapper Missions